Press Releases
WASHINGTON–U.S. Senator John Boozman (R-AR) was presented with the Institute of International Education's (IIE) Centennial Medal for his dedication to international education and cultural exchange programs.
"Educational exchanges like the Fulbright Program help change the world. Providing opportunities for students to participate in international programs allows for the exchange of ideas, fosters an understanding of different cultures and strengthens diplomatic relations. I'm proud to support programs that break down barriers by building a network of global ambassadors," Boozman said.
During the medal presentation Boozman met with Colton Flynn, a native of Farmington, Arkansas who recently earned his Ph.D. from Oklahoma State University. Flynn was a Fulbright Scholar who conducted agriculture research in Ethiopia with Ethiopian farmers and scientists.
The Fulbright Program, the United States' flagship educational exchange program, was created by former Arkansas Senator J. William Fulbright in 1946.
IIE is a global leader in international education. The not-for-profit organization works internationally to design and manage scholarship, study abroad, workforce training and leadership development programs. IIE is celebrating its 100thanniversary this year.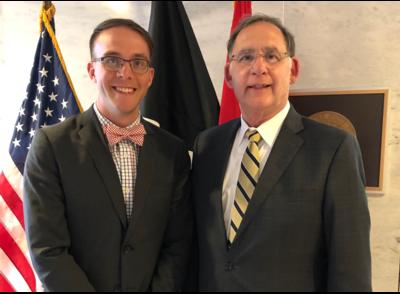 (Pictured: U.S. Senator John Boozman with Farmington, Arkansas native and Fulbright Scholar Colton Flynn)